I've been working on a new fiberglass trailer kit idea, this one is patterned after the military M100/M416 trailers. The military-style trailers are very popular among the adventuring, overlanding and off-road crowd, but reasonably restorable original military examples are getting very hard to find, and the new versions of these trailers offered by trailer vendors are very expensive. So I've designed and will be building a fiberglass military-style tub kit that's intended to be very affordable and assembled in a home garage or driveway by a DIY-er.
I've built a set of 1/4 scale molds to test the design and assembly concept of the trailer, here are a few photos of two 1/4 scale trailers I have built using tubs that came out of these molds. On the left is a 6' tub (same as the original military trailers), and on the right is a 4' version.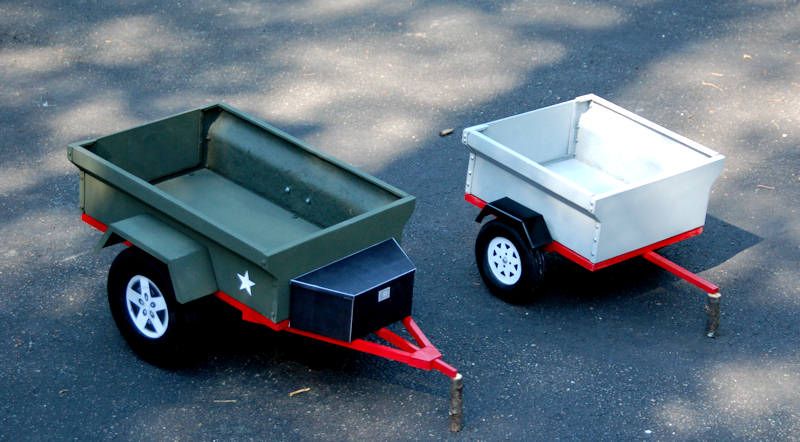 Here's a more "optioned" view of the 6' tub (I'm calling the 6' version the M-72
).
Both of these models are sitting on scale models of Harbor Freight trailer frames. The 4' version frame has the original 12" wheel/21" tires that come with the frame, and the M72 is sitting on scale replicas of 31" tires on Jeep Moab alloy wheels, which share the 5-on-4.5 bolt pattern of the larger HF frame. Here's the model 4' tub sitting next to the model Harbor Freight Mini Trailer frame:

The 6' tub can also be bolted to an original M100 or M416 military frame to replace a rusted or beyond-restoration original military tub.
In this thread I plan to post lots of details of the design and construction of the full size fiberglass molds and my first full size prototype trailer out of those molds, and I'd really appreciate as much constructive feedback from you as possible. I'll also try to give plenty of information on the techniques I'm using, for example fiberglass and mold making, so if you're interested in learning stuff like that the thread should help you. If there are features or capabilities you think I should add to the design, please post them.